Japanese LaserDisc Collection
Cream Lemon Full Permanent Preservation Version LD Complete Works くりいむレモン
< Front || Back >

Disc #1 contains:
Cream Lemon - 01: (Ami) Be my Baby
Cream Lemon - 02: Escalation 1 - Hardcore tonight
Cream Lemon - 03: Super Dimensional Legend Rall Pt. 1
Cream Lemon - 04: Pop Chaser
< Front || Back >

Disc #2 contains:
Cream Lemon - 05: Ami again
Cream Lemon - 06: Escalation 2 - Forbidden Sonata
Cream Lemon - 07: Ikenai Mako-chan - Sexy Symphony Pt. 1
Cream Lemon - 08: Super Virgin
< Front || Back >

Disc #3 contains:
Cream Lemon - 09: Happening Summer
Cream Lemon - 10: Star Trap
Cream Lemon - 11: Black Cat Mansion Pt. 1
Cream Lemon - 12: Ikenai Mako-chan - Sexy Symphony Pt. 2
< Front || Back >

Disc #4 contains:
Cream Lemon - 13: Ami III
Cream Lemon - 14: Narisu Scramble
Cream Lemon - 15: Super Dimensional Legend Rall Pt. 2
Cream Lemon - 16: Escalation 3 - Angel's Epilogue
< Front || Back >

Disc #5 contains:
Cream Lemon - 17: Moriyama Tou Special 1 - 5th Period Venus
Cream Lemon - 18: White Shadow
Cream Lemon - 19: Evil Doll (Madol)
Cream Lemon - 20: Etude 1 - Snow's Heartbreak
< Front || Back >

Disc #6 contains:
Cream Lemon - 21: Dream-colored Bunny
Cream Lemon - 22: Summer Wind
Cream Lemon - 23: Heartbreak Live
Cream Lemon - 24: Etude 2 - Spring Concerto
< Front || Back >

Disc #7 contains:
Cream Lemon - 25: Moriyama Tou Special 2 - Houkago XXX
Cream Lemon - 26: Ami Image - Shiroi Kage
Cream Lemon - 27: Graduation Album - Best Scenes Collection
< Front || Back >

Disc #8 contains:
Cream Lemon - 28: Harukana Kei Special - Evil City Astalot
Cream Lemon - 29: Toshiki Yui Special - Impressions of Europa
< Front || Back >

Disc #9 contains:
Cream Lemon - 30: Kei Amagi Special - Cherry Melancholy
Cream Lemon - 31: Moriyama Tou Special - Best Hit
< Front || Back >

Disc #10 contains:
Cream Lemon - 32: Ami Sore Kara Pt. 1: Awashimi no nakede
Cream Lemon - 33: Ami Sore Kara Pt. 2: Wasuretai noni
< Front || Back >

Disc #11 contains:
Cream Lemon - 34: Ami Sore Kara Pt. 3: Dakaretai noni
Cream Lemon - 35: Ami Sore Kara Pt. 4: Bishou no nakade
< Front || Back >

Disc #12 contains:
Cream Lemon - 36: "Special" Ange & Rose
This disc is CAV. This title was exclusive to this box for about
a year, until it was finally released on VHS in 1992 as well.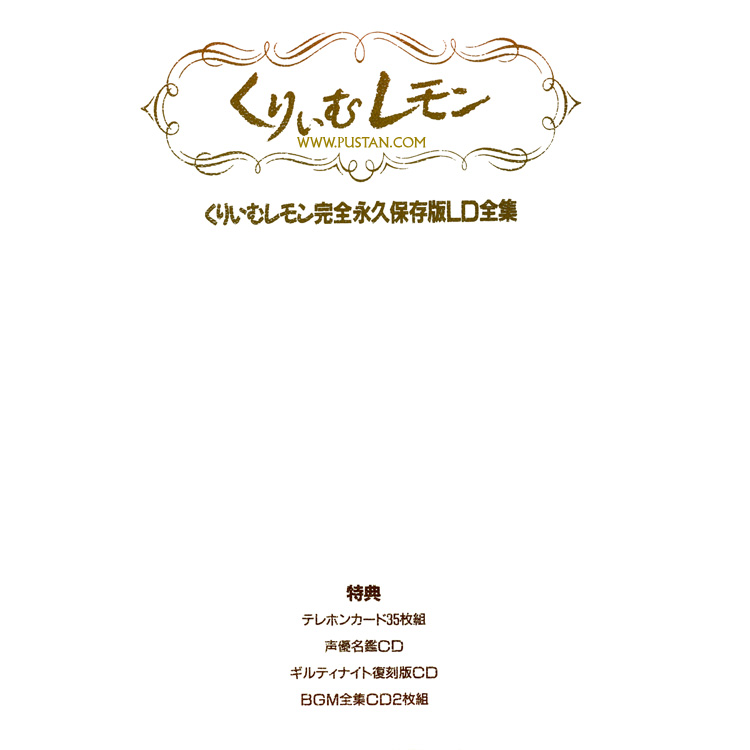 There is also this thing inside the box, looks like a gatefold jacket at first...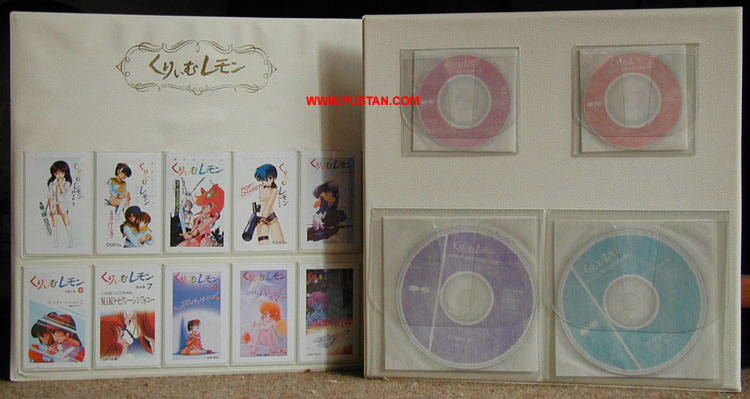 When you start opening it you see telephone cards and four audio CD's.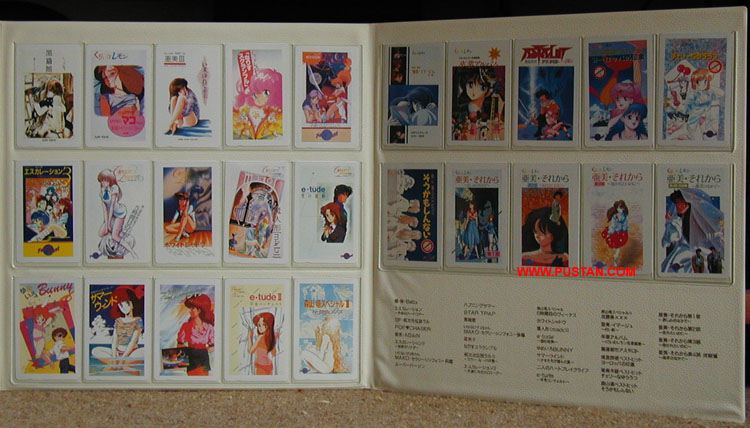 But that is not enough, there are 35 (!) telephone cards in total. So it's one card for each episode in this box, minus Ange & Rose. Each card is worth "50 call units", and if you multiply that by 35 you end up at 1750 units which might partially explain the high price of this set.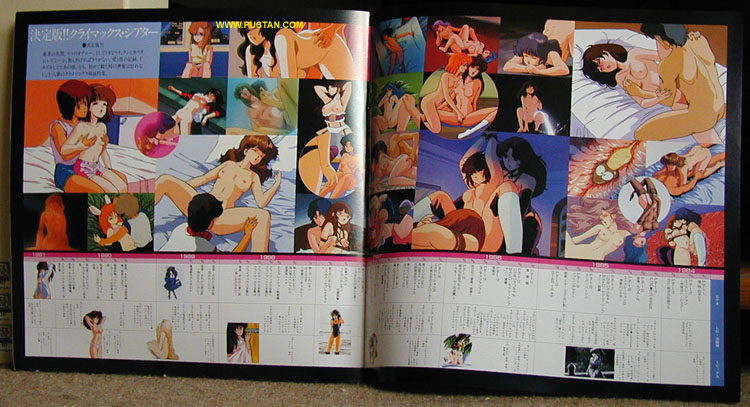 And of course there is an LD jacket sized booklet with a lot of information and pictures.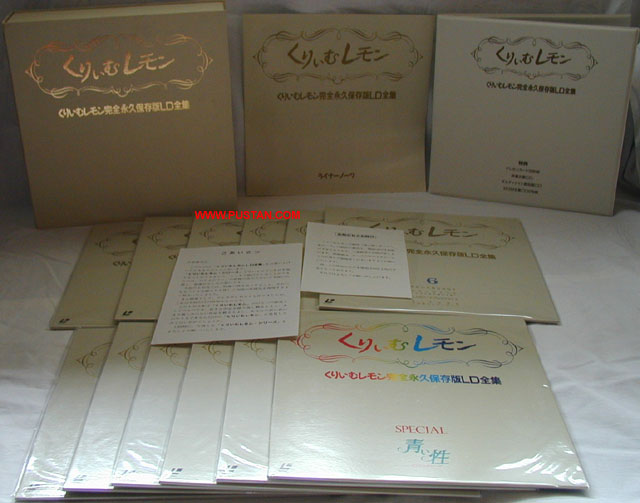 And finally a picture of the whole set: Sadly, this pressing suffers from laser-rot on some discs, which seems to be the case for all DL-xxx releases out there. Unlikely other information from the web, this is the "eternal" box. PCLS-00001 is not, because it misses two kanjis that read "eikyuu" which would translate into "permanence/eternity". Besides all that, this set does NOT include all Cream Lemon episodes, the 1991 release date being at fault here. PCLS-00001 has two more, and there is also a "Climax Box" out there which I still have to get one day.