Japanese LaserDisc Collection
Cream Lemon Best Collection LD Box くりいむレモン
< Front || Back >

Disc #1 contains:
Cream Lemon: (Ami) Be my Baby
Cream Lemon: Ami Again
Cream Lemon: Ami III
Cream Lemon: Ami Image - Shiroi Kage OVA
< Front || Back >

Disc #2 contains:
Cream Lemon: Escalation 1 - Hardcore Tonight
Cream Lemon: Escalation 2 - Forbidden Sonata
Cream Lemon: Black Cat Mansion Pt. 1
Cream Lemon: White Shadow
< Front || Back >

Disc #3 contains:
Cream Lemon: Super Dimensional Legend Rall Pt. 1
Cream Lemon: Pop Chaser
Cream Lemon: Ikenai Mako-chan - Sexy Symphony Pt. 1
Cream Lemon: Ikenai Mako-chan - Sexy Symphony Pt. 2
< Front || Back >

Disc #4 contains:
Cream Lemon: Moriyama Tou Special 1 - 5th Period Venus
Cream Lemon: Moriyama Tou Special 2 - Houkago XXX
Cream Lemon: Toshiki Yui Special - Impressions of Europa
Cream Lemon: Star Trap
< Front || Back >

Disc #5 contains:
Cream Lemon: Etude 1 - Snow's Heartbreak
Cream Lemon: Etude 2 - Spring Concerto
Cream Lemon: Summer Wind
Cream Lemon: Heartbreak Live
< Front || Back >

Disc #6 contains:
Cream Lemon: Happening Summer
Cream Lemon: Narisu Scramble
Cream Lemon: Evil Doll (Madol)
Cream Lemon: Moriyama Tou Special - Best Hit
< Front || Back >

Disc #7 contains:
Cream Lemon: Graduation Album - Best Scenes Collection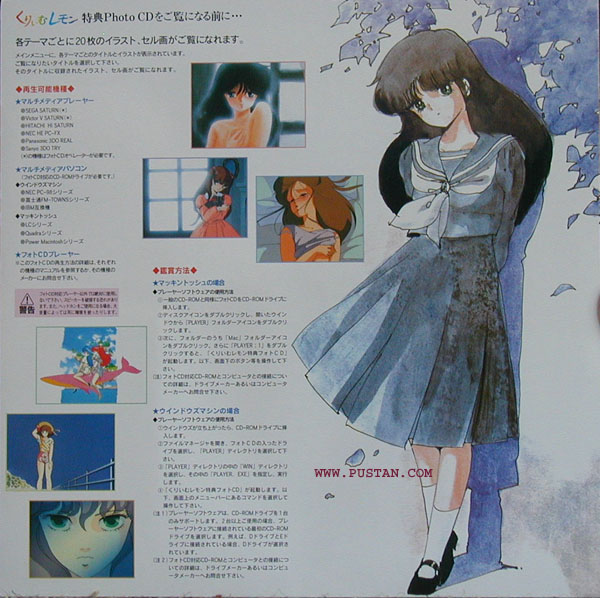 Inside the box is this cardboard "goodies holder", picture shows its backside...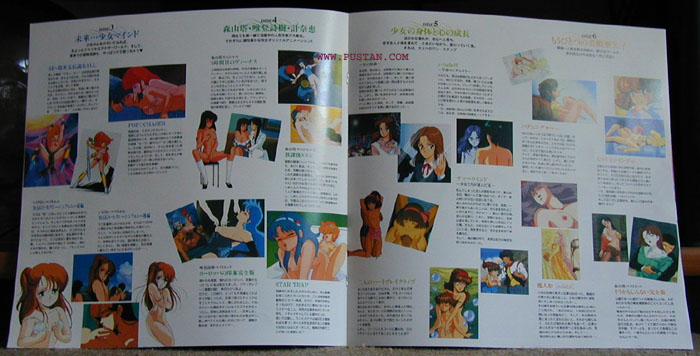 Also included is this nice LD size booklet full of pictures and information.

As well as these three telephone cards.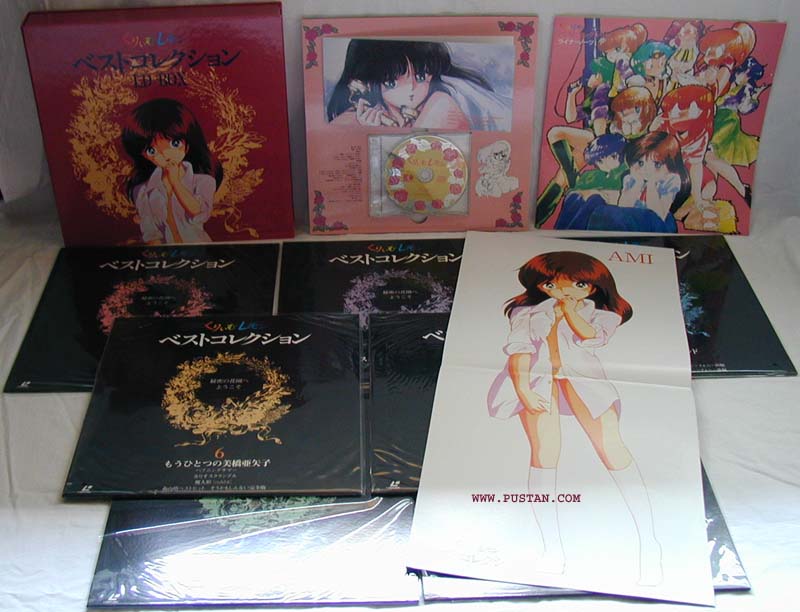 Here you can have a look at the whole set: In the middle is the cardboard that also holds the Photo CD along with the phonecards. The box also included an Ami poster (different girl on the backside: Rie), but I never saw an obi-strip. It got delivered in a shipping box originally, which I do not have.